Wanderers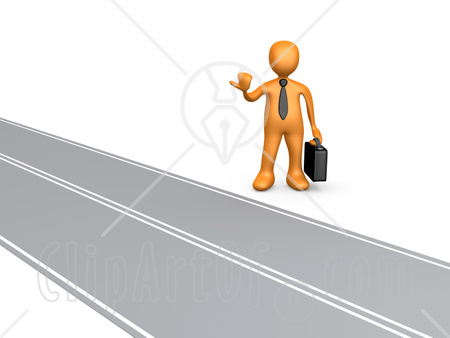 Homerville, GA
A Homerville Band. Some of the members were Andy Kemp, Freddie Landrum, Mike Clanton. Actually went on to Nashville for a time. Played Bee Baby Hops, etc. Andy and Mike Hattaway played together in the Predictions and Freddie and Mike played together in Heavy Traffic and Midway Centennial....
Information Courtesy of Mike Hattaway 2005.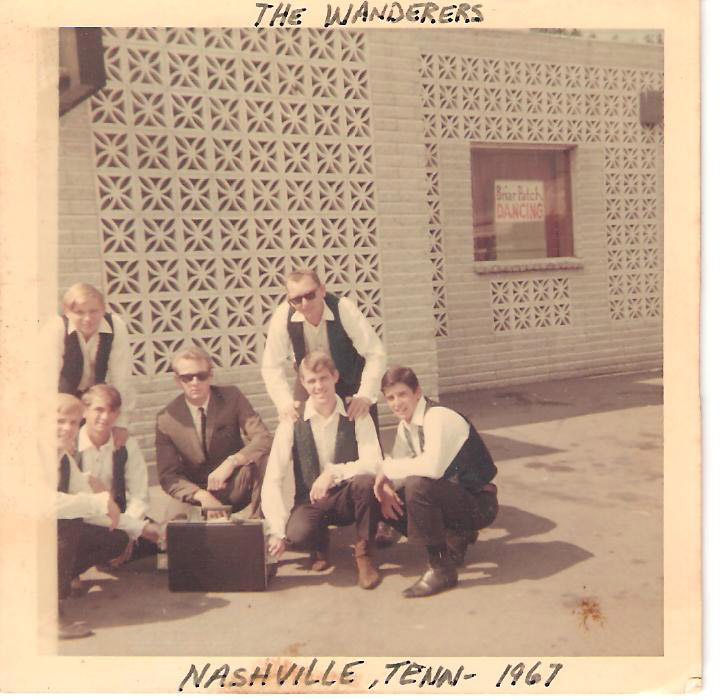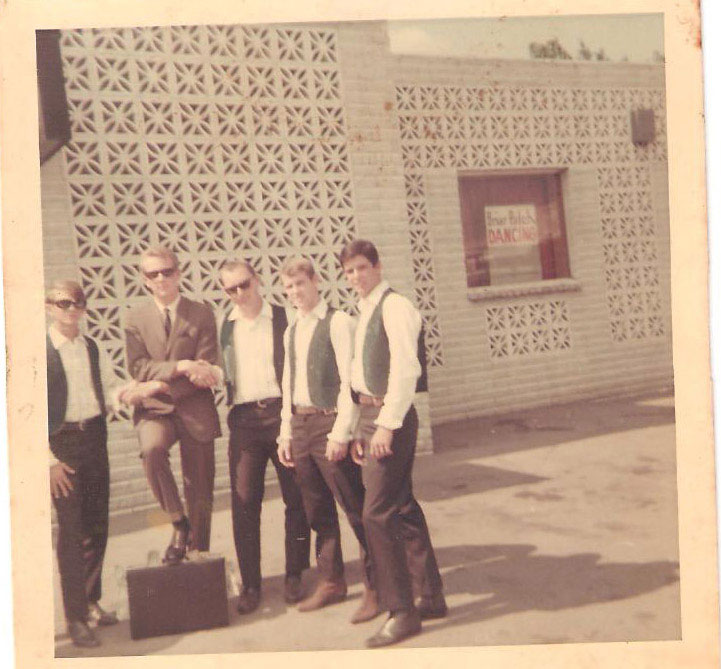 The picture was taken
in Nashville, Tn. In August 1967 in front of the Briar Patch night club
where we played for a week after playing in a battle of the bands up there.
The names of the guys in the pic with the writing on it are from left to
right, Terry Browning, keyboard (kneeling), Mike Henderson, trumpet & lead
vocals (deceased & standing),Ronnie Clanton, rhythm guitar, Fred Martin (in
the suit, promoter) Wallace Caulley, drummer (standing), Freddie Landrum,
lead guitar, Andy Kemp, Bass.
Andy later ran into to Fred in 1982 when he was back in Nashville taping "You
Can Be A Star". He was working on the set and had changed his name to
"Chance Martin".
Pics and Information courtesy of Andy Kemp
The original Wanderers band members were:
Keith Chancy piano, organ; Wallace Colley drums (now deceased); Mira Barrett lead guitar; Johnny Moylan saxophhone, John Albert Morgan rhythnm guitar; and Floyd Allen bass guitar.
Colley started out using a lightshade from a chicken brooder for a ccymbal and a marching drum. The band was started by Keith Chancy in 1962. The band was kept together for many years by Wallace Colley.
info. courtesy Ronald Smith who also sat in with the Wanderers on numerous occassions. Ronald attended Clinch County High School with Keith, Johnny and Mira in the early sixties.
Check out the band's 45 RPM recordings: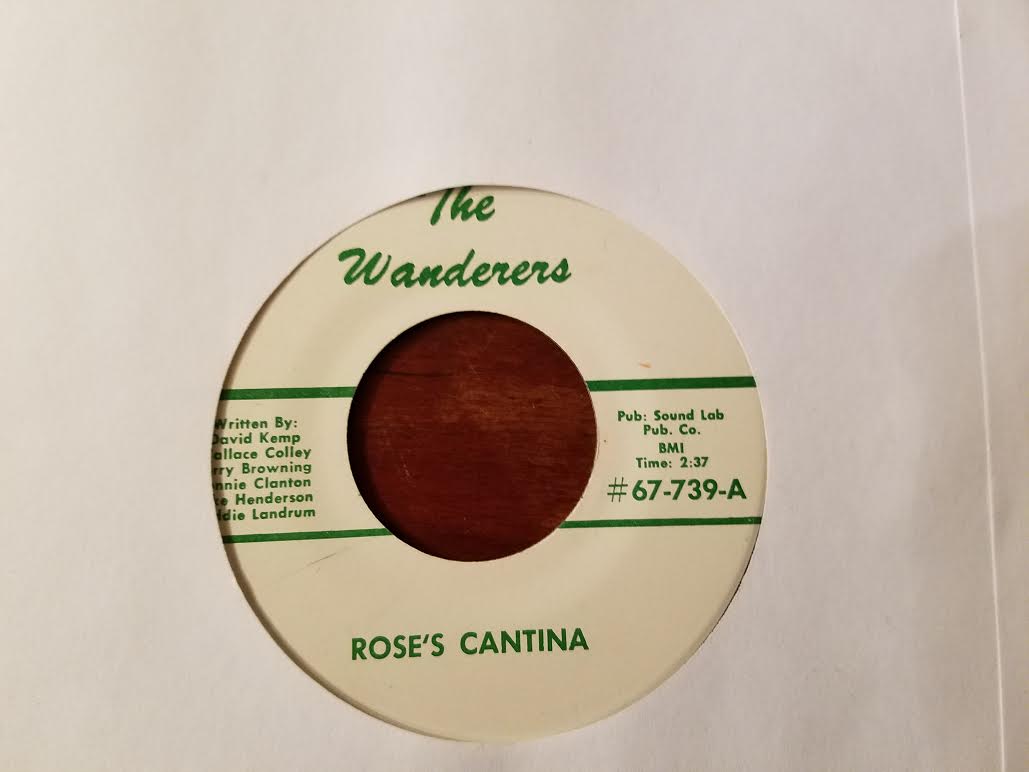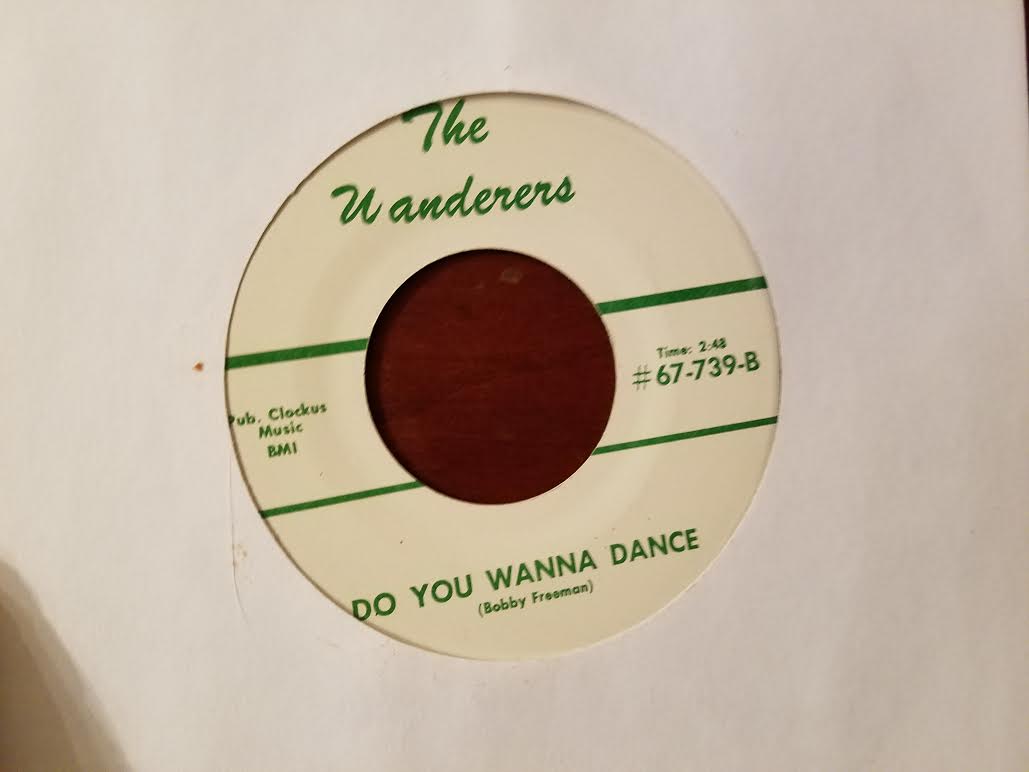 © - Dave andAndy 2005