GENE AND THE TEAM BEATS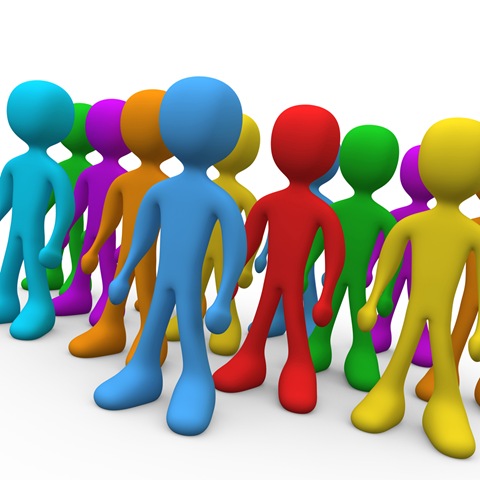 Martinsville, VA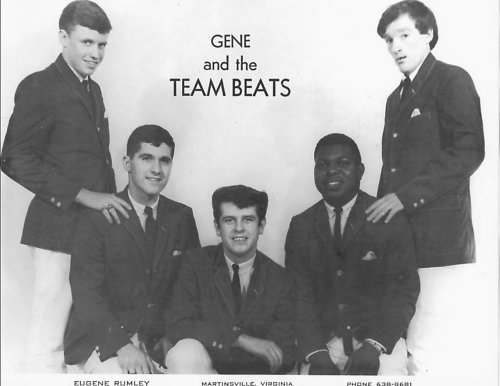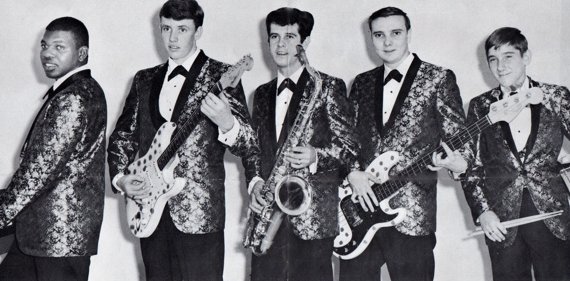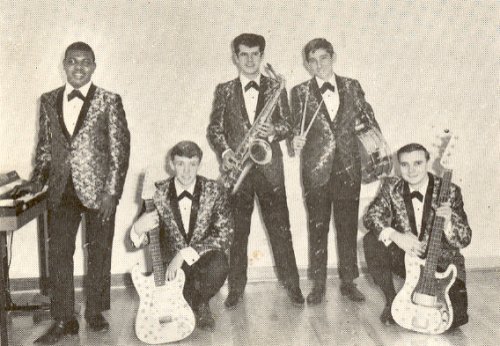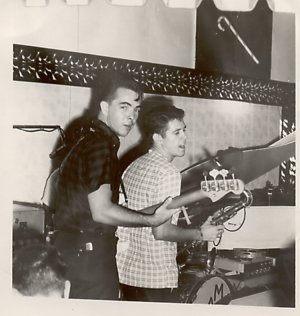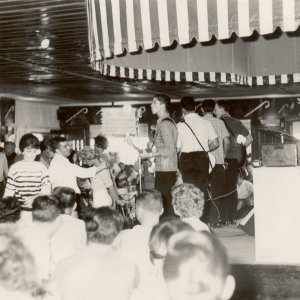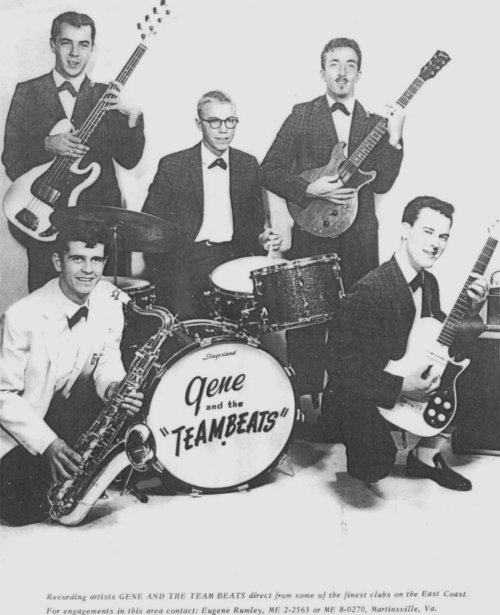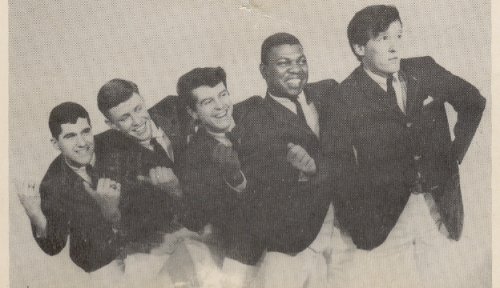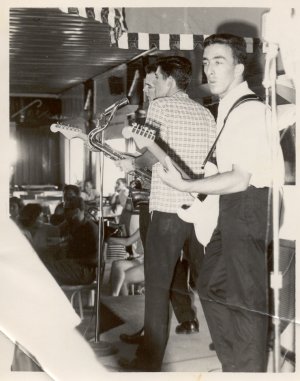 Gene and the Team Beats were led by Gene Rumley of Martinsville, Virginia, who played sax and booked the band in the '60s after starting his musical career in a group called the Corvettes in high school. The Team Beats performed mostly in VA, NC, SC and DC from 1959-1968. The band started recording late in their career, with all three 45's released in 1966 and '67.
The Team Beat's first single release, "I'll Carry On" was on Leatherwood. Gene explains that the band saved some money "from a couple of gigs, rented a studio near Rocky Mount somewhere and cut our first record, which we self-promoted." Rumley describes the recording quality as "bad," noting "there was not much separation at all... probably one, two tracks because we were playing like we were playing in a nightclub and had the volume cranked up. When the sound came out, we were not too happy with it."
For their second release, "I Wanna Be Your Baby," Gene and drummer Mickey Walker got in the car "and drove for two days from Danville to Richmond, up to a guy playing all kind of rhythm and blues out in Delaware. Just anybody who would listen to us we go into a studio and try and tell them who were and what we were doing."
"I Wanna Be Your Baby," and "I'll Let Nothing Separate Me" were the group's second and third 45 releases, respectively. Both were recorded for Raven Records in Danville, Va. The former received extensive local airplay and is regarded as a classic in the genre. "I'll Let Nothing Separate Me" is a cover of an obscure song by the Wallace Brothers that outshines the original. Since they didn't write their own material, Rumley says the band would "sit down and listen to old records" then decide which tunes would be suitable for the group.
The personnel on "I Wanna Be Your Baby" is: Gene Rumley (sax and backup vocals); Charles Hairston (lead vocal); Lonnie Woodall (guitar and backup vocals); Rickie Fox (drums); Carl Barrow (bass).
A fourth single release was planned and the backing track was recorded. The project was shelved after the group's new lead singer, Alfonzo Martin of Martinsville, was drafted. The group disbanded shortly thereafter. Gene describes Martin's vocal range as "unbelievable." Martin served in the U.S. Army and rose to the rank of Staff Sergeant. He was killed by hostile fire in Vietnam.
Gene & The Team Beats were the house band at the Peppermint Beach Club in Virginia Beach, Virginia for a summer in the mid-60s. The club was the sister of the renowned Peppermint Lounge in New York City and home of Joey Dee & The Starlighters of "Peppermint Twist" fame.
Lew Woodall was the band's original guitarist, and still performs with his own jazz quartet. He recalls the early years, when the band formed in 1959-60 as Gene and the Teenbeats. "We played most every weekend for gigs around the area in Martinsville, Danville, Roanoke, etc and in NC. Lots of college fraternity gigs. We played several summer beach gigs. In '61 at Norfolk (Star Terrace) and at VA Beach at Top Hat. In '62 we played for opening of Peppermint Beach Club and as house band for the summer. In '63 we played a couple of months at the Twist Lounge at Nags Head. I left the Teambeats at the end of that summer when I transferred to VCU in Richmond. After graduating in '65, I was drafted and my brother, Lonnie, began playing with Gene while I was in Vietnam."
Musician and composer Rickie Fox was also a member and explains that his brother, Butch, got him into the group after Lew Woodall was drafted into the Army. Butch Fox switched to lead guitar and his 12-year-old brother, Rickie, picked up the bass. Fox ended up playing with the group for several years, first on bass, later on guitar and finally on drums when Mickey Walker was drafted. His drumming can be heard on the band's first two records. Fox says his most vivid memory is playing with Otis Redding in Martinsville in 1965. Fox was also with the band when they backed Percy Sledge and the Shangri-Las. The group also performed with Sam and Dave, Joe Simon, Inez Foxx, Freddie Cannon, William Bell and the Kelly Brothers.
As he was too young to drive, Fox recalls that "when my ride left the band, I had to leave, too." He went on to play with the Soulmasters, the Majors, City Council, the Manchesters and Fox and Company. Fox continues to record and perform today, both as a solo artist and with his band, 58 West.
Other musicians and singers who performed with Gene & The Team Beats include Carl Clark, Wayne Motley and Mickey Walker.
Leader Gene Rumley says while the band was small in number, they were able to get a "fat" sound because of the musicianship of each of the members. They were primarily a soul and rhythm and blues band and Rumley points out that "Lewis (Woodall) and some of the guys hated playing rock and roll."
Gene found vocalist Charles Hairston by sheer tenacity, explaining that he went up Fayette Street in Martinsville saying: "Hey, we're looking for a black singer to really represent our group with soul music... who's a good singer?" Someone recommended Charles, who passed the audition and became the voice of the Team Beats. Gene says his contribution cannot be overlooked, and believes "Charles really made our band at that time."
The addition brought some problems in the segregated South, where the band was refused service at a restaurant while returning from a fraternity gig at the University of Virginia. But having Hairston on vocals also allowed the Team Beats to play in some black clubs that were generally off limits to white bands.
Rumley recalls one performance at Baldwin's Gymtorium on Fayette Street in Martinsville that drew 3,000 fans. He says the old, two-story building had a balcony that circled the interior, with a high stage and a large dance floor. The Team Beats were the warm-up act that night. Rumley says when they performed, "that place was jumping and the old wooden building was literally shaking." He says when Otis Redding took the stage the sound was "absolutely unbelievable." Rumley recalls that the horn section from James Brown's band had just defected to the "up and coming" Redding and says "they basically tore the roof off the place. That was one of the best jobs that we'd ever played."
The music of Gene and the Team Beats lives on today and has experienced a resurgence, especially with Northern Soul fans in the United Kingdom. Rumley is currently in talks with a UK label to have several of the band's tracks released on compact disc.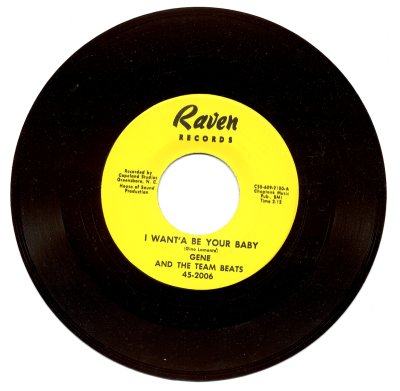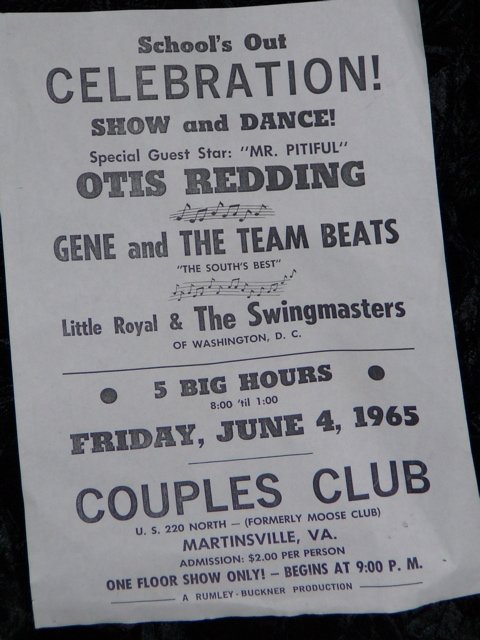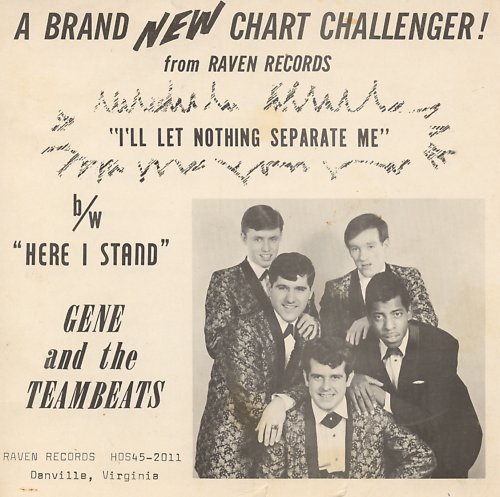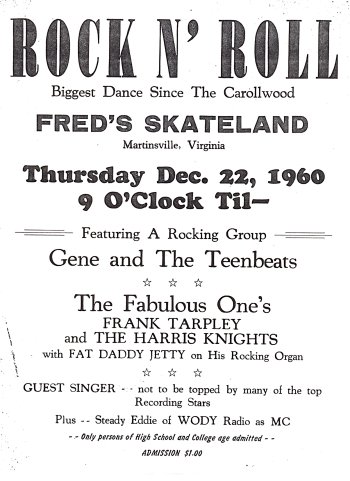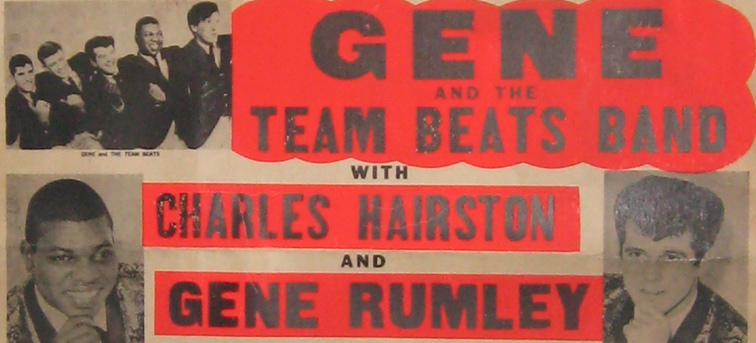 Pics courtesy John Douglas
Info courtesy Jack Garrett