MEMPHIS BLAZERS

Memphis, Tennessee
The Memphis Blazers were rockin' long before The Beatles and the garage band era. Formed in 1961, their sound was based on Memphis soul music. Using a Hammond organ, guitar, bass, drums, three horns, and four vocalists, this band played hard rhythm and blues. The band was known for its "blue eyed soul" lead singer and tight vocal harmonies. The Memphis Blazers rocked the Memphis and mid-south region. The band played every weekend and delivered a Memphis soul sound for thousands of party goers at dances throughout Tennessee, Alabama, Arkansas, Kentucky, Louisiana, and Mississippi. The Memphis Blazers featured some of the best musicians and vocalists in the Memphis area and produced musicians that have worked with Issac Hayes, Rufus Thomas, Booker T. and the MG's, Lynn Anderson, and many others.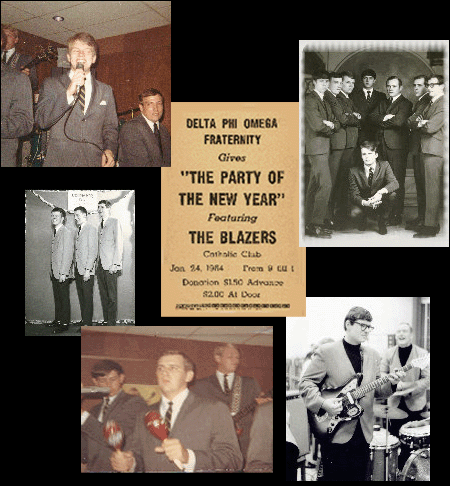 Personnel:
Joe Arnold - Bass and Sax
Lee Baker - Guitar
Lou Bosdorf -Vocals
Dickie Cooper - Drums
John DeWitt - Keyboards and Guitar
Jim Grivich - Trumpet
Gene Johnson - Lead Vocals
Jim Key - Keyboards
Bobby Manuel - Guitar
Bill Melton - Guitar
Jim Mitchell - Vocals
Harry Mullins - Vocals
Buddy Skipper - Guitar
Robert Smith - Vocals and Trombone
Swain Schaeffer - Keyboards
Influences:
James Brown, Motown, Stax, Drifters
Setlist Sample:
James Brown Live at the Appolo album, Ain't Too Proud to Beg, Stand by Me, Green Onions, Stay, Have You Ever Had the Blues, etc.
Equipment:
Hammond organ, Fender Jaguar guitar, Fender Bassman bass, Ludwig Drums, custom designed PA.
Rehearsal Space:
Snake's House.
Band Vehicles:
Two VW Buses- 1964 and 1965 models.
Best Gig:
Any Battle of the Bands gig because The Memphis Blazers usually won.
Gig from Hell!:
Club gigs.